Contact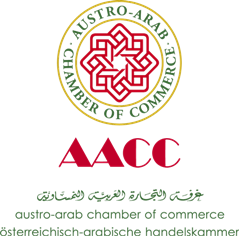 Austro-Arab Chamber of Commerce (AACC)
Österreichisch-Arabische Handelskammer
غرفة التجارة العربية النمساوية
Postal Address:
Lobkowitzplatz 1 / 15
1010 Vienna - AUSTRIA
P.O. Box/Postfach:
No. 76
Telephone:
+43 (0)1 513 3965
Telefax:
+43 (0)1 513 8559
E-mail:
headoffice@aacc.at


Website:
www.aacc.at

Arabic

English
!!! ATTENTION / URGENT !!!
NO CUSTOMER TRAFFIC until further notice
Dear Members, Clients and Friends of the Austro-Arab Chamber of Commerce,
The Federal Government's precautionary measures to fight the COVID-pandemic also affect the accessibility of the Austro-Arab Chamber of Commerce.
Until further notice, the AACC will temporarily SUSPEND CUSTOMER TRAFFIC at its premises (Lobkowitzplatz 1/15, 1010 Vienna).
For urgent cases and inquiries, the AACC can be reached by e-mail to headoffice@aacc.at .
Thank you very much for your kind cooperation and understanding. We hope that the situation will get better soon.
The Austro-Arab Chamber of Commerce
Regular opening hours:
Monday – Thursday: 9 – 17 hrs
Friday: 9 – 15 hrs
Saturday, Sunday, public holidays: closed
To reach AACC with public transport:
Bus No 3A / Stop "Plankengasse" or "Albertinaplatz", 3 minutes walk
Subway U4, U2 or U1 / Stop "Karlsplatz", 7 minutes walk
Subway U3 or U1 / Stop "Stephansplatz", 7 minutes walk
Tramways No 1, 2, 62, 71, D / Stop "Wien Oper / Kärntner Ring", 8 minutes walk